dox42 Solutions
Generate high-quality documents, MS Excel spreadsheets and PowerPoint-presentations from various data sources automatically. Since the template design can be done easily by business users in MS Office, coordination effort is reduced and IT specialists can concentrate on their core tasks again.
Data Sources
Various different data sources can be integrated in your documents very easily. These data sources can be combined with each other as dox42 supports dependencies. Enrich your documents also with dynamic tables, calculations, text modules, images or barcodes.
Industries
Do you create documents and make them automatically generic using your current company data from multiple sources? dox42 enables a large number of documents for intelligent customer communications management, depending on the application scenarios. Generate your documents in real time individually based on customer completely without programming.
[ Error ]
As shown by this list of various possible documents, there is a lot of optimization potential in every company. Typically one document is the initial starting point. After the first, very quick success with dox42, more and more documents are automated using dox42. You can automate as many documents as you like without any additional costs. Just visit our dox42 reference site, and get an overview of our projects our customers realized.
Output Formats
You can choose the output format of your generated documents freely.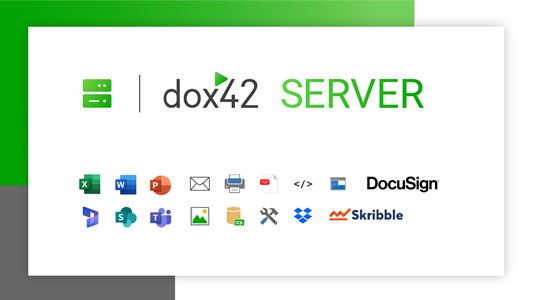 The generated documents can be displayed immediately, they can be saved at a defined location and/or sent as an e-mail-attachment or HTML-mail. Of course you can combine several of these output options. For example, you can save a document as pdf to a SharePoint library and automatically send it via e-mail to your customer in one step. And yes, the e-mail text can also be individualized and automated using dox42.

Summarized, dox42 supports you with being a clearly defined software module with standardized interface to every system in your software environment. Integrate your data sources, automate your documents, and choose output formats and communication channel or save locations – flexibly with dox42.