Jochen Vogel, Head of Business Technologies at Gleiss Lutz law firm, explains their use of dox42. "Gleiss Lutz is an international commercial law firm that advises DAX100 companies, larger companies, medium-sized companies and public corporations on larger projects.
The product, which Gleiss Lutz provides is advice. Advice usually leads to written pleadings. It's about lawsuits, deadlines, revocations and other legal documents. The time pressure and capacity pressure is enormous, especially in large mandates, and we actually need a high degree of automation and a digitalization of the workflows to cope with this time pressure.
How can dox42 help us? And I would like to demonstrate it to you with two memorable examples. In the first example we come to the FactTracker. FactTracker is an e-discovery tool. E-Discovery means that documents, emails, other databases, according to evidence, facts and figures are extracted from a large database and documented in a SharePoint list. Here we use metadata to carry out various enhancements, and dox42 is used precisely when it comes to using project- or mandate-specific templates on Office and exporting pixel-perfect documents for further use, for example in court or in further project progress.
In the second example, we were able to support a class action lawsuit. A great deal of data was collected in the run-up to the lawsuit. Based on 2,500 individual Excel files, over 5 million individual receipts were restored. We have combined these individual documents in a database and the task was to generate over 250 complaints from this dynamic data within an extremely short period of time, in this case, in almost only two weeks.
With dox42 we were able to use the template, an Excel and Word template, to dynamically pour the data from the database into the complaint and to deliver the more than 250 individual complaints to the lawyers on time. These were just two examples of how we can profitably use dox42 at Gleiss Lutz. It is particularly advantageous when it comes to enriching Office templates with dynamic data with pixel accuracy. It increases efficiency and automation, and is therefore ideally suited for other projects at Gleiss Lutz. Many thanks.
nteam Case Study (in German): Fact Tracker - Einfaches Erfassen von Faktensammlungen & dox42 Dokumentenautomation und Integration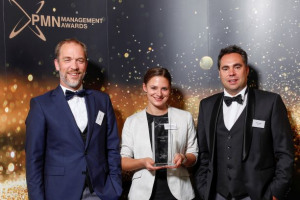 Award in the "Legal Tech" category
The jury of the PMN Management Awards 2020 was convinced by "FactTracker": Gleiss Lutz was awarded 1st place in the category "Legal Tech"! 

Congratulations to the entire team at Gleiss Lutz and nteam GmbH. We are delighted that the FactTracker project, which uses dox42 to generate facts in PDF form, has received this award!