Automate Document Generation in a Workflow
Issue
Documents are one of the most important means of communications for a company with its customers. That's why they should be fast and easy to create. However, the documents should still focus on the individual customer. Therefore, the manual document creation - copy & paste - is often used.
The manual approach is flexible, but error-prone, time-consuming and slow.

Solution

dox42 enables you to create individual, high-quality documents in up-to-date corporate design with current and correct data automatically - within seconds. No more texts or calculations need to be inserted manually – dox42 does the work for you. What is more, dox42 increases your flexibility tremendously, as you can integrate multiple data sources into one template. This way you eliminate mistakes, prevent image damages and have time for the essentials tasks of your job again!
You can  download Nintex Workflow Utilities for free, to generate documents in a Nintex Workflow in a very uncomplicated and easy way.

"Public Administration invested in Nintex Workflow and dox42 document automation to addresse its needs."
Case Study: Public Administration Boosts Automation, Improving Productivity & Public Service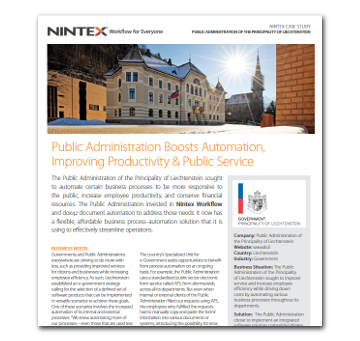 Nintex & dox42 Case Study

Government Principality of Liechtenstein
"dox42 is an ideal extension to Nintex Workflow!"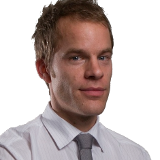 Felix Gremlich
Regional Sales Director –
DACH, Northern and Eastern Europe
Nintex